Bertrem Valve is dedicated to producing valves and related equipment that address industry needs with uncompromising quality. The Bertrem Top Entry Ball Valve combines the proven performance of conventional ball valves with instant serviceability. Our high-performance rugged ball valves are a clearly superior product to traditional valves. Versatility, Performance, and Integrity all describe Bertrem Valve Incorporated and our products. All the features available in flanged end valves are available on all Bertrem top entry valves.
3/4″ ANSI 300 Butt Weld connections Bertrem Valve with Zero emission Bonnet
Unlike conventional ball valves, our valve uses dual floating seats and a floating ball. All valves have an anti-static spring. The ball and seats are pressure energized, to assure a bubble-tight shut-off in high-pressure applications. The ball is pre-loaded with a dynamic tension spring to assure leak-tight sealing in low-pressure applications. The spring-loaded self-adjusting wedge seat assures leak-tight sealing in all operating conditions including temperature, pressure, or wear. Using this design positive leak-tight shutoff is assured for the full life of the seats. The seats are under compression loads only – no flexing or bending of the seat material occurs, permitting the use of relatively hard, high-temperature seat materials. Metal seating is easily accomplished, by utilizing this seat load methodology.
The top entry design allows for quick disassembly inline without removing the valve from the piping. This insures the piping to valve sealing stays intact and is permanent as the pipe itself. By removing the bonnet all components can be removed and serviced without special tools. This method of service and repair is ideal for critical services where replacing flange gaskets and spreading the piping would be hazardous if not impossible. Ideal for applications where welding into a line is necessary. No damage to seats and seals since they may be removed before welding.
Bonnet and stem seals can be made of a wide variety of materials including metal, graphite, Teflon, elastomeric, and more. A straight-through bore design provides for maximum flow with the least turbulence and minimal pressure drop. Quarter turn, long seat life, and low operating torques make Bertrem Valves particularly suitable for automation with electric or pneumatic actuators. High-cycle applications are easily accommodated with this unique design. Firesafe designs for flammable/hazardous fluids and gases.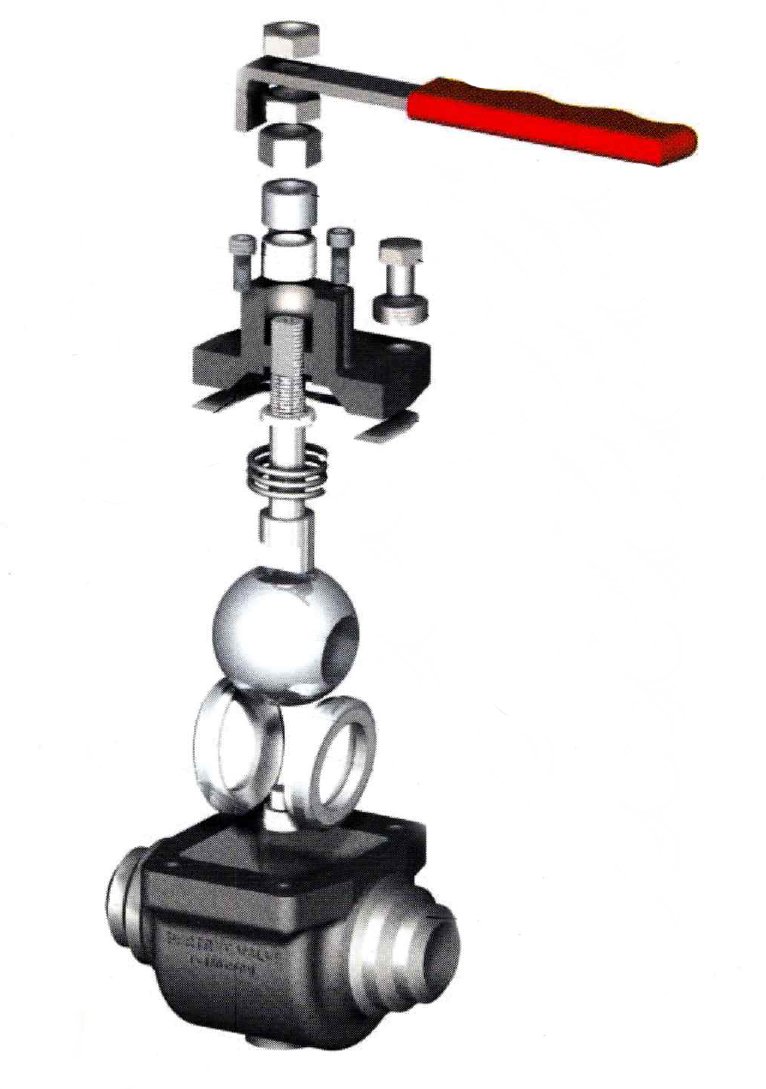 1/2″ Bertrem Valve Zero Emission Bonnet Butt Weld connections
Metal Seated Ball Valves
Elevated temperatures and abrasive or corrosive services all require special attention to provide the best sealing solution. Bertrem Top Entry Valves are available with metal sears and graphite seats to meet these demands. Class V and Class IV shutoff per ANSI/FB 16.104. Special order positive shutoff helium tested. The metal seated design offers a unique dimension in valve applications and performance in high-temperature abrasive services.
The metal seat design can also provide solutions at very low temperatures from cryogenic levels to ambient temperatures. Metal seated valves are used extensively by industry in the following service conditions:
High temperatures, abrasive media, hot gas service, high catalyst medium, coal gasification, slurry medium, fly ash service, severe corrosive services, hot oil service, and steam service can be routinely handled by the special hard surface ball & seat coatings and positive shut off of the self-cleaning seat.
Fugitive Emission Bonnets
The Bertrem Top Entry Valve is available in all sizes with a zero-emission bonnet design. The special sealing system has found broad acceptance by major chemical processing, refining, pharmaceutical, and government engineers for critical service projects. Typical applications for our fugitive emission designs are:
Phosphene gas, chlorine liquids and gas, benzene, nuclear waste, nerve gas, toxic waste streams, pharmaceutical feedstock, freon, explosive manufacturing streams, uranium production, hydrogen, oxygen, most acids, and alkalines.
The triple packing system with internal and external live loading makes the stem and bonnet sealing system extremely reliable. it is suitable for high-cycle automated applications. The live loading makes the system self-compensating for wear. The bonnet gasket seal is also live loaded on each bolt by stainless steel or Inconel Belleville washers.
High Temperature & Cryogenic Valves
High-temperature valves differ from standard valves only in the stem packing, bonnet seal, and seat seals. The self-adjusting wedge seat allows for a large temperature differential without any tendency to bind and without injecting sealing compounds for sealing.
Bubble tight to -415 deg F and up to 1200 deg F utilizing O.S. & Y. Design with Extended Bonnets.
Corrosion Resistant Valves
Bertrem Valves offers a wide range of Alloy materials for applications that require corrosion resistance or wide temperature differentials. The alloy valves offer the same standard features as the standard valve. Typical alloys used to make Bertrem valves are: 316ss, 304ss, Hastelloy B or C, Inconel, Nickel, 20 or 20CB-3, Nickel Aluminum Bronze, Monel, Titanium, plus any other metals that can be cast or forged,