Reading Time:
4
minutes
When problems arise, often temporary solutions help fill the gap until a permanent fix can be put in place. By providing additional pumps during construction, repairs, or heavy-use periods, Bertrem Products, a Mission distributor in Arkansas, fills this need with their rental pumps. However, when the main equipment is down, utilities still need data about their systems. Bertrem also wants to keep an eye on their rental pumps to ensure proper functioning. This led them to install Mission remote terminal units (RTUs) on their rental pumps.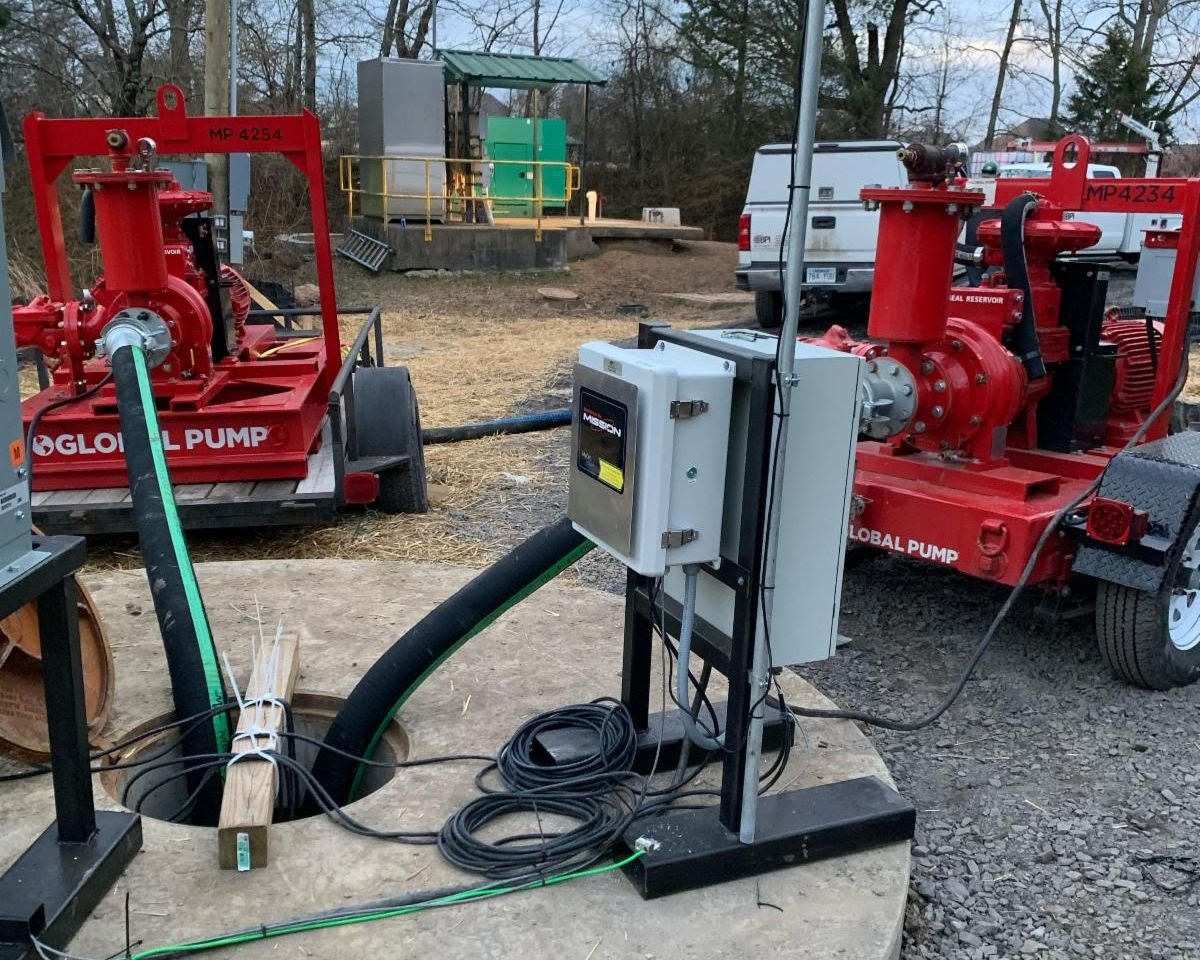 Bertrem uses a portable pump and telemetry setups for their rentals. Photo by Justin Riedmueller.
"I suggested it to the customer as a way to monitor the pumps and alleviate needing someone sitting there 24/7. That's a common thing with rental pumps on sewer bypasses to have someone on-site doing pump watch around the clock. The Mission System has helped eliminate that because you're able to monitor the pumps, runtimes, starts and stops, and the overall condition of the station at any given time." Justin Riedmueller with Bertrem proposed the idea and helped set up Mission RTUs on the rental units. "It was something that Josh (Christiansen, also with Bertrem) and I had discussed whenever I first came on to take over the rental department. They had actually put one [Mission RTU] on a pump because they kept having so many issues with it before I started, and after that, we saw that there could be a potential market for it."
The length of each rental can be as short as a week to more than a year depending on the needs of the job. Bertrem currently has three bypass stations with Mission RTUs. One station has three pumps, and the other stations have two pumps each.
Mission RTUs collect and send data to the servers where it can be viewed via the 123SCADA web portal or mobile app. This accessibility helps streamline service calls for both the customer and Bertrem.
"When a problem occurs, the contractors are not always around those stations. They may only work on that site one day out of the week depending on what their job status is there. If a fault occurs or we have an issue with one of the pumps, then we're able to go out there and get it repaired before they have any kind of backups. And the customer is notified as well with alarm notifications," explains Riedmueller. "If there's an issue, we can see what we're dealing with before we get there. With Mission, we're able to see whether it's an electrical fault or something with itself and if we need to grab parts from the shop. We can look at the system and get a better idea before we actually head out to the job site."
"We're using Mission to let us know high level, which pumps are running, if there are any pump failures, what the rainfall is, the temperature outside." Christiansen helps with the rental units as well. "We all monitor the lift stations. We'll notify the contractor of any changes. Every day, we send them a report with the pump runtime hours on it and pump starts and stops of the rental pumps."
Examining data trends helps Riedmueller predict any issues with the rental pumps in hopes of adjusting or repairing pumps before problems surface. "I have reports set up to email me daily about runtimes. I use that report to compare to the rental pump average. If the pump is running longer and we've gotten rain, I know there can be infiltration, but I can usually tell by the report if there's a problem or not. I also get a monthly runtime report that I send to the customer as a courtesy so they can see all runtimes in one spreadsheet."
Utilizing Mission RTUs at these bypass stations helps not only prevent problems but also helps the customer reduce man hours on-site and monitoring.
"I use the mobile app daily. If we haven't had any issues, I check it two or three times each day. The customer looks at it about the same amount." Riedmueller explained that one customer uses the mobile app regularly now. "At first, he only wanted to be notified if there was an issue, but we gave him a log in for the web portal. Now he loves watching the system through the app. It helps him out with his daily reports on his end. He can report back that everything is going well, and if he's not able to be on-site due to meetings then he can see that everything is working right and not have to guess or drive two hours to his job site."
"One of the cool things we're doing with Mission is on the pump station that has three pumps. There are two lift stations that share the same force main, and it's undersized to carry the full capacity of the stations. We installed some relays along with the Mission RTU to give the customer information. It actually goes into their SCADA system and shows when multiple pumps are running. If it's a heavy rainfall, we may have two pumps running at the same time. And since that particular station has almost doubled its flow, it's able to slow the other station down without the customer having to do anything. It all runs automatically like that."
The reliability has increased interest for Bertrem customers in Mission outside of the rental units as well since the customer can see what the Mission system can do for them by providing proactive information on their pumps and accessories such as pressure transducers and flow monitoring.
Mission offers dependable and cost-effective options for telemetry along with a unique obsolescence guarantee and convenient training options. For more information about the Mission system, contact sales@bertrem.com.